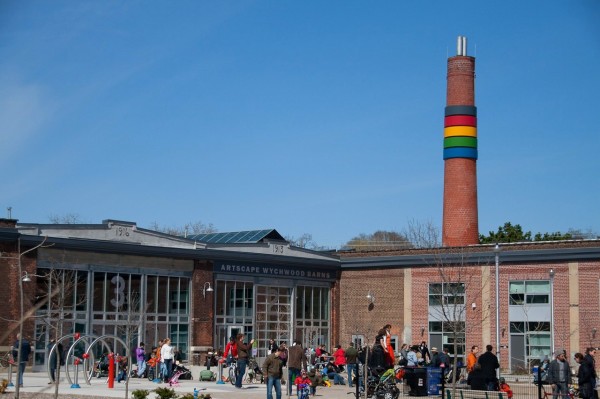 On a chilly February night last week, the Artscape Wychwood Barns opened their doors to student designers and the general public to host their first crowdsourced design jury. When the Barns were acquired by Artscape, a not for profit organization that "develops and manages unique multi-tenant facilities that deliver sustainable and below-market production, rehearsal, exhibition and living space for artists, creative practitioners, entrepreneurs and cultural organizations", in 2001, the City of Toronto was planning to demolish the site which had been sitting unused since 1992. Local councillor Joe Mihevc and a group of active citizens mobilized to save, remediate, and repurpose the former transit repair barns into a community hub for artists, activists, and advocates. And though the Barns are now a thriving destination, especially on Saturdays when their farmer's market is held, the Wychwood Barns Community Association (WBCA) still felt that something was missing from the site; a central place where visitors could go to get information about the Barns' events and post their own. They wanted a kiosk.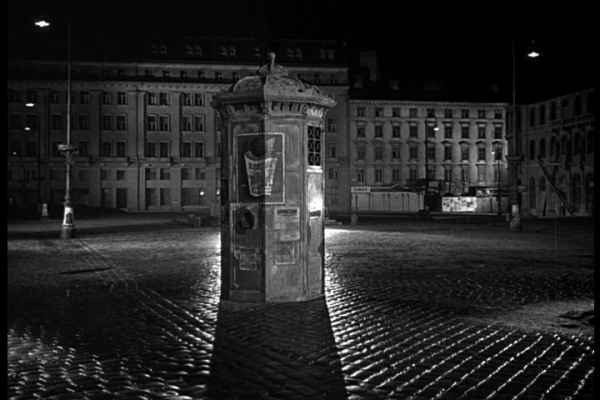 But true to the creative and imaginative roots of the Barns' inception, the WBCA wanted not just any old kiosk, they wanted something unique and inspirational. Teaming up with Projexity and Professor of Architecture and Design at Ryerson University, Vincent Hui, students were invited to submit their own ideas for its design. In total, eighteen different submissions were posted to Projexity's website and three were shortlisted after a round of online voting. Over coffee and home-made cookies by Councillor Mihevc's staff, the finalists presented their ideas to the public and a design jury made up of  architects, Wychwood Barns' staff, and noted columnist Christopher Hume. While the designs varied, they all had one thing in common: none of them were kiosks.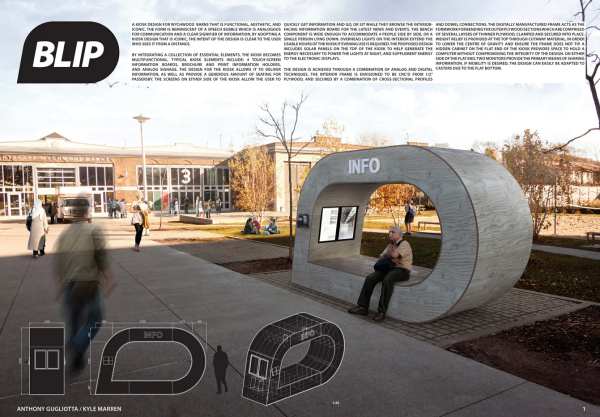 The first finalist to present, and also selected as the winner by the design jury, was "Blip!". Finding inspiration from communication graphics like speech bubbles and the text message icons ubiquitous on smartphones, this submission is intended to be multi-coloured, mobile, and easily replicable for different locations on the site. It's a lot of things – a bench, a digital display, and a public art installation – but it's not a kiosk.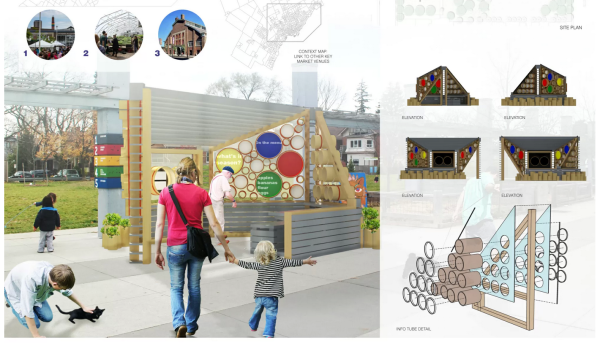 Similarly, "Grow Local" is less a kiosk and more a pavilion or gazebo. The designers of this submission wanted to promote connections to the Barns' community garden and The Stop, perhaps the location's best known organization, whose mission is to "increase access to healthy food in a manner that maintains dignity, builds health and community and challenges inequality". By celebrating things that grow with a design that evokes a spice rack or seed catalogue, the students behind this submission want to encourage the public to stop and take a moment to appreciate where their food comes from.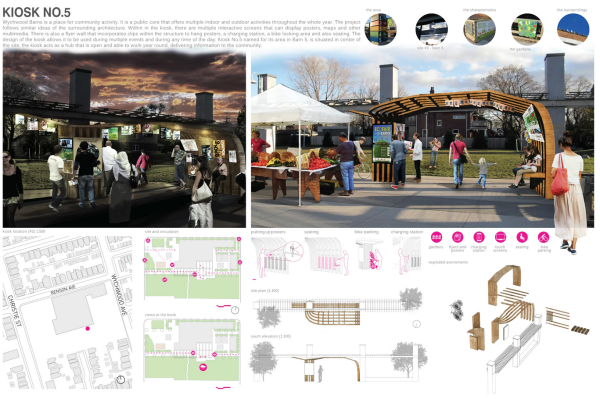 The third finalist, "Kiosk No. 5", envisaged an all-purpose communications hub extending from the heritage trellises that extend across the site's main entranceway. Replete with cell phone charging stations, bike storage, foldable seating, and a digital display board, this entry is intended to get people to congregate and make chit chat while they are walking their dogs or buying local potatoes at the market. Again, though, it's not a kiosk.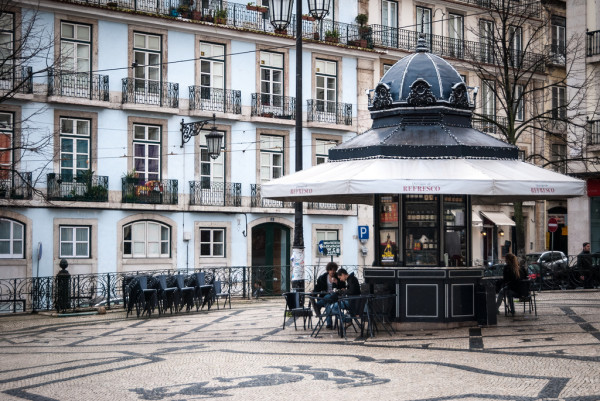 Like a lot of street furniture, kiosks tend to get overlooked as elements of good public space design. They serve as landmarks, gathering spaces, and service providers that help anchor a space and give it definition. So in that sense the designs submitted for Artscape Wychwood Barns' competition are kiosks, just not as we would traditionally imagine them. But I think that's the point. We're living at a time when a phone is hardly a phone anymore; it's a calculator or a video game console or an encyclopedia. Is it any wonder, then, that young designers are beginning to embrace, and even expect, multi-functionality as a core consideration? Though "Blip!" may not yet become a reality, it's an exercise in visioning that speaks to the creativity and collaboration that inspired the protection and reuse of the Barns, themselves an example of how a single-purpose space can be transformed into anything but. All it takes is a little imagination.
Danny Brown is a graduate student studying urban planning at the University of Toronto and an editorial intern at OpenCity Projects. He is passionate about technology and the potential of unused and neglected public spaces among other things. Follow him on Twitter @dannybr0wn.
Images courtesy of Paul Henman, Patti McCracken, Projexity, and Stijn