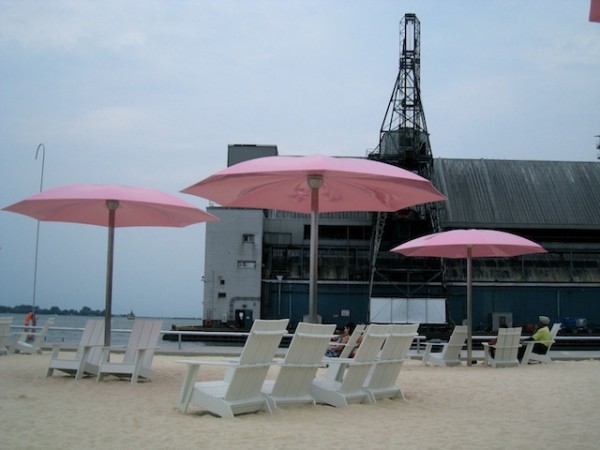 By Jake Tobin Garrett
As the days begin to get warmer, I am looking forward to spending some time at Sugar Beach, one of the newer waterfront public spaces that is part of Waterfront Toronto's ambitious revitalization of the Toronto's shoreline. The beach owes its name to Redpath Sugar, a still working piece of Toronto's industrial past that remains adjacent to the park.
It's not unusual to see a huge ship carrying thousands of tonnes of raw Brazilian sugar docked at the refinery, unloading its burnt-yellow cargo with cranes that send metallic clangs over the water. I love watching the workers who in turn gaze over the railing of the ship at the people lounging under Sugar Beach's bubblegum pink umbrellas. It must be an uncommon sight to these workers to be able to stare at sunbathers and kids playing in water fountains while they do their work; but then again, it's uncommon for a public space like Sugar Beach to share such close proximity to working industry.
Such is the complexity of Toronto's waterfront, where new public spaces are slowly but surely being carved into what was a solely industrial district for decades. What makes Sugar Beach so interesting, however, is exactly this complexity, this juxtaposition between Toronto's new post-industrial waterfront with its industrial past. Of course, Sugar Beach could exist by itself, but it would lose something–not just an obvious historical context, but an activity and vitality that it gets from being located near a working port.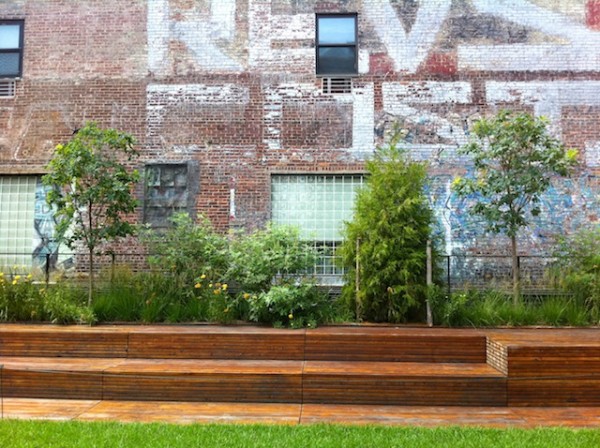 Of course, this juxtaposition between a carefully-designed public space and a piece of industrial past is not found only at Sugar Beach. New York's High Line Park, which turns an old elevated rail trestle into a linear park, also plays off its industrial history. Rails are visible through the smooth concrete planks that make up the walkway, and, in one portion, reclining seats are set on wheels that can be moved up and down the rails. The High Line winds its way through old brick warehouse buildings, sometimes coming so close that you can reach out and almost touch them. This graffiti-scarred, industrial landscape provides a dynamic background to the hyper-designed High Line. Take away the setting and the High Line definitely loses something.
Back in Toronto, the Evergreen Brick Works is another example of an adaptive reuse that stays true to its industrial past while injecting fresh and modern architectural elements. Formerly the Don Valley Brickworks, this site has been converted into a sustainability hub with an ice rink, restaurant, offices and classrooms. The graffiti layered on the walls over the years has been preserved as well as portions of the brick kilns. The effect is visually arresting; the site speaks of modernity and the need for a sustainable future, while also harkening back to our industrial past and how we got to where we are.
If there is something to be learned from Sugar Beach, the High Line, and the Evergreen Brick Works, it's that things that don't seem like they would go well together—like a working port and a beach—often not only go very well together, but when included next to each other add up to more than the sum of their parts. They allow a more textured public space experience, one where the past has not be erased or painted over, but embraced.
Sugar Beach would still be an interesting place if you removed the Redpath Sugar Refinery, but being able to put down your book for a moment and watch a lumbering ship disgorge itself of huge piles of sugar adds something to the experience of being there that other places just don't have.
Jake Tobin Garrett is the OpenCity blog editor. Originally from Vancouver, he holds a Masters in Urban Planning from the University of Toronto, and is also a contributing writer for Spacing Magazine and Torontoist. He can often be found riding his bike or reading in a park. Follow Jake on Twitter @jaketobin
photos by the author