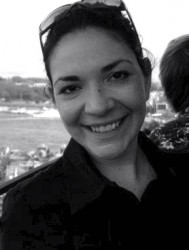 One of two co-editors, Niki Angelis has an avid interest in good urban design, emerging environmental trends in planning and people-centred public space, and is happy to be back in Toronto after pursuing graduate studies in London, England. During her time abroad, she participated in several projects dealing with alternative uses of public space, community engagement and capacity building in both developed and developing city contexts.
Passionate about community upgrading, Niki is an active volunteer proposal writer and researcher for several community-based organizations locally and abroad.
Born and raised in Kingston, Ontario, Niki earned a Bachelor in Environmental Studies and Human Geography from Queen's University, a Master's in Building & Urban Design in Development from University College London and holds a LEED AP certification.
A fan of long walks, coffee breaks and cook books, Niki is an emerging social media maven for the OpenCity Projects Blog.