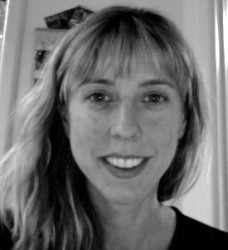 Julie Stolberg is a copywriter and creative director at Dashboard – a digital engagement agency in Toronto. Along with her partner, they direct and inspire the creative department on all agency projects. On a given day, she can be found writing scripts for animated videos, brainstorming online media ads, crafting and reimagining brand identities, working on websites and integrated campaigns that seem to always include Facebook!
A trained designer from OCAD University and wordsmith, Julie comes at every project with art, copy and a newfound passion for technology.
Prior to Dashboard, she worked in both traditional and interactive advertising creating TV, radio and digital campaigns for Winners, Unilever, Capital One, Mercedes, Kellogg's, BlackBerry and Bell to name a few. Along the way, Julie has picked up a nice collection of awards from One Show, How Magazine, Applied Arts and ADCC, and an honorable mention at the Cupcake Show – yes she likes to cook and bake.