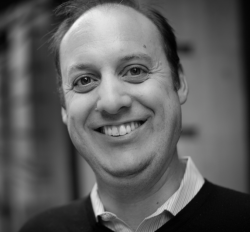 Brad Scott is a founding director for Applied Design Works. In this role, Brad oversees all aspects client engagements from strategy, to day-to-day operations, and implementation.
Brad has worked with clients that include Accenture, Altria, BP, Corning, Genworth Financial, Hewlett-Packard, LG Electronics, Lilly, Central Park Conservancy, World Trade Center Redevelopment, Panasonic, Procter & Gamble, and Verizon.
Brad is an internationally recognized speaker and industry commentator on branding and technology. He has spoken at conferences in China, Australia, the UK, and the United States, and has been interviewed by leading associations and publications, such as Brandweek, the Associated Press, How, salon.com, Wired, and Red Herring.
His accolades include: appearances in the British Design and Art Direction Annual, the Clio Awards, Print AtoZ, Communication Arts, Vogue magazine, and a Gold Lion from the Cannes International Festival of Creativity.
Previously, Brad honed his skills working for Landor Associates; imc2, an internet marketing and advertising agency; and Clear Ink, an Internet strategy, technology, and design firm.