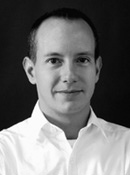 Andrew Jones is a designer who specializes in developing furniture and lighting products for manufacturers, and architecture and interiors. He works for clients both locally and abroad, including: Keilhauer, Gloster, Teknion, Umbra, among others.
Andrew designs fully integrate the technical challenges and practical issues unique to each design. Through research and collaboration with manufacturers, he finds appropriate solutions that are both useful and durable and creates forms that are expressive and materially beautiful. He has won numerous awards for his designs, including 3 prestigious I.D. Magazine Annual Design Review awards. His work has been exhibited internationally, in venues such as the MOMA, New York City and the Venice Biennale, and is in the permanent collection of the Royal Ontario Museum and the Design Exchange, Toronto.
Andrew received his Bachelor of Architecture from The University of Toronto in 1991 and his MA in furniture design at the Royal College of Art, London in 1997. He teaches furniture design at the University of Toronto, The Ontario College of Art and Design and the University of Pennsylvania in Philadelphia.