This year a French street artist named JR won the TED Prize, given out by the nonprofit conference on technology, entertainment and design. While I have been more than impressed with all of the projects and people featured on TED, I have been blown away by past TED Prize winners who are awarded $100,000 for their "one wish to change the world."
JR takes peoples' portraits from communities around the world, blows them up like billboards and places the images in provocative locations. The visuals and the stories behind some of the portraits are simply incredible. JR has posted work featuring Israelis and Palestinians on walls in the Middle East, portraits of residents of the Parisian slums in wealthy areas of the city, and many more.
As a TED Prize winner, JR's wish is "for you to stand up for what you care about by participating in a global art project, and together we'll turn the world…INSIDE OUT." To take part, JR has requested that people send him their own portraits. He plans to take the photos, 'blow them up' and then send the people their billboard-sized photos to post in empty spaces in their city. According to a recent article in the New Yorker, over 40,000 people have already submitted images to the project. Photos can be uploaded here www.insideoutproject.net.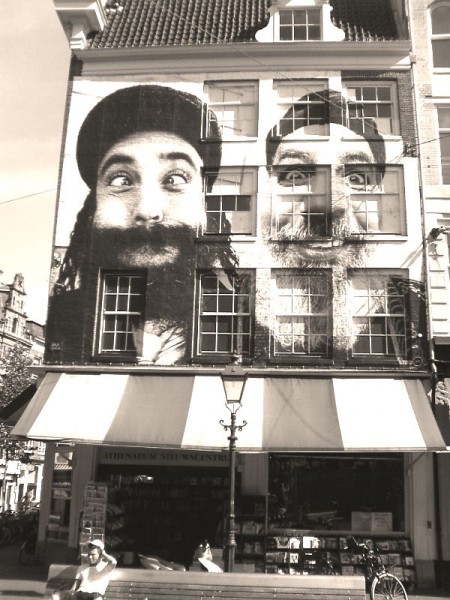 Crowd sourced input and provocative use of images brings empty spaces to life. I highly recommend that you take the five minutes and watch this video on the project. Then, if you are so inclined, perhaps you can send JR a portrait or two and let us know where you would or where you have posted your billboard-sized photos in your own cities, and what impact they have made.
Jordy Gold is the OpenCity Projects Editor and is a sustainability consultant. He has worked and studied in Geneva, Lund, Chiang Mai and Prague. Jordy learned from the Swedes how to cycle in all conditions and can be seen on his bike 365 days a year throughout the core of Toronto. Follow Jordy on Twitter: @JordyGold
First photo of a child by bareknuckleyellow from Flickr (cc)
Second photo of two faces by AmsterSam – The Wicked Reflectah from Flickr (cc)