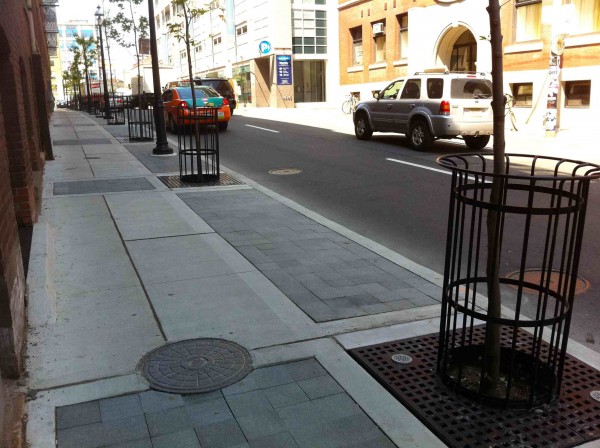 By Jake Tobin Garrett
401 Richmond in downtown Toronto is an adaptive reuse of an old tin factory into a hub of artist studios and galleries. Located at the corner of Spadina Ave and Richmond St West, this huge brick building extends its exterior, dotted with old loading docks, one entire full block east to Peter St. Up until just a few months ago, however, the south side of this stretch of road had no sidewalk. In order to walk east, you had to cross the street and use the thin strip of sidewalk there.
For a city that won an award from the Federation of Canadian Municipalities for its Walking Strategy, it was surprising to find an environment so inhospitable to walking in the heart of downtown. Not only did this create an unnecessary pedestrian disconnection, but it meant that for that one block between Spadina and Peter, Richmond was not a very nice place to be. It was often dark due to the high, unbroken walls on either side, and the lack of trees meant the street appeared barren and cold. It was a conduit for car travel and nothing more.
So it was with much joy that the residents of 401 Richmond learned that the City planned to build a new sidewalk. For a few months in the fall of 2010, construction crews ripped up asphalt, poured concrete, and planted trees to create this new pedestrian connection. (To see pictures and accounts of the construction process check out the blog set up by Urbanspace, the property group that owns 401 Richmond).
By inserting a much needed connection in this block, the entire feel of the streetscape has been changed—not only because of the trees planted, but because the new sidewalk seems to have had the effect of slowing down cars. Instead of seeing a blank brick wall as they approach the bend, drivers see the new sidewalk, trees, and people walking.
One thing that could be improved, however, is that the new sidewalk contained no additional bicycle parking. Post-and-ring bicycle parking, inserted between trees on the sidewalk, would not have inhibited pedestrian flow and would have added much needed bicycle parking to the area. What has happened is a lesson to urban designers that city dwellers will repurpose infrastructure to suit their own needs. People have begun to lock their bikes to the metal grills that protect the newly planted trees. My guess is that post-and-ring parking will be added eventually because of this.
While the new sidewalk is a great example of how an urban environment can change for the better by adding a simple connection, it also reminds us that there are many needs that must be taken into account in these redesigns from the beginning.
Jake Tobin Garrett is the OpenCity blog manager. Originally from Vancouver, he is currently completing a Masters in Urban Planning from the University of Toronto, and is also a contributing writer for Spacing Magazine and Torontoist. He can often be found riding his bike or reading in a park.
photo by the author