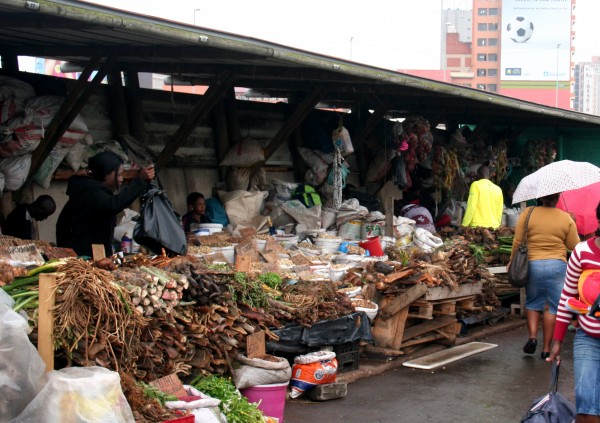 This is the second article in a series on the markets of Warwick Junction.
Traditional medicine – known as Muthi – plays a vital role in health and wellness for South Africans.  Traditional healers diagnose and prescribe based on age-old wisdom passed down through the generations.  Illnesses and ailments are treated with herbal remedies that are grown, prepared and dispensed through a vast network of suppliers and traders in South Africa.
Durban's Warwick Junction is home to one of the largest Muthi markets in South Africa, and from an urban planning perspective, the history of the market space is as fascinating as the Muthi itself.  Before the Warwick Junction urban renewal project got underway in the late 1990s, traders sold their wares on the street, where the lack of shelter and storage space left them at constant risk of damage and theft.  To protect their goods overnight, many traders slept beside them on the pavement.
With more than 700 Muthi traders in Durban, finding a downtown space big enough to provide them with the necessary storage and other amenities was a considerable challenge.  The space that is now the Herb Market started out as a motorway overpass that was deserted due to a planning error.  Construction of the overpass was stopped halfway through, creating a concrete cliff that literally dropped off onto the busy road below.  Informal trading and housing sprung up on the abandoned overpass, despite the lack of basic amenities and its notoriety as a hotbed for criminal activity.
The transformation of the former overpass into a safer, healthier and less congested space for the Herb Market is an impressive example of innovation and ingenuity in urban planning.  After a major clean up operation, lighting, water taps and toilets were installed, and kiosks and stalls were built in consultation with the healers and traders themselves.  The healers see clients in small kiosks that offer a bit of privacy and can be locked at night.  The semi-covered traders' stalls have enough of a roof to provide shelter from the rain, and enough air circulation to keep the herbs and roots well ventilated.  The market is locked at night and protected by a security guard so that traders no longer have to sleep beside their stock.  And as for the drop-off at the edge of the former on-ramp, its been transformed into a pedestrian bridge that connects Herb Market to the Early Morning Market and Music Bridge.
For more information about the remarkable structural transformation and the inclusive planning process that took place, take a look at Asiye eTafuleni, a local non-profit organization involved in participatory urban design and planning in Durban.
Many thanks to Tasmi Quazi and Richard Dobson of Asiye eTafuleni for providing me with a wealth of background information and insights into this vibrant market space.
"Before" photo of the abandoned overpass courtesy of Asiye eTafuleni. All other photos by the author.
Kristin Neudorf is a public health research consultant who works with research institutions and non-profit organizations around the world.  When she's not busy with research, Kristin loves exploring new places and devoting her time to her urban gardening project, The Urban Locavore. She tweets at @kneudorf and @Urban_Locavore.