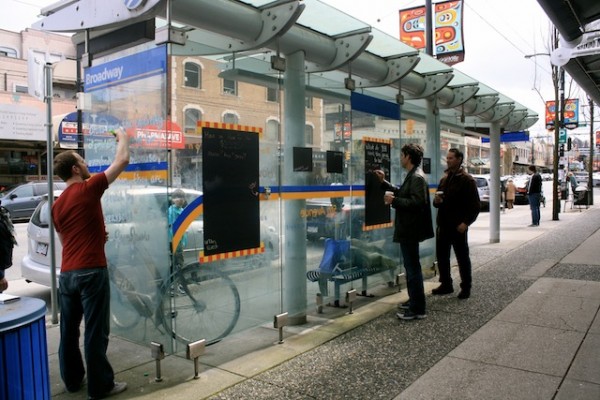 By Brandon Yan
This space on Granville Street near Broadway used to be a bus shelter for Translink's 98 B-Line, a rapid bus system from Vancouver to Richmond that became extinct with the completion of the Canada Line. Since September of 2009, this sad space has sat unloved and unused: the number 10 bus that now runs along Granville Street stops about five or so metres to the north so no one waits here. Sometimes you'll see the odd person sitting on the bench.
Whenever I see a sad space in the city I always envision its potential. A few months ago, the Vancouver Public Space Network (a group that I volunteer with), organized an 'Ideas Jam' and I brought up the possibility of transforming this old bus shelter into something useful again. A group of us came up with some pretty great ideas but I thought it'd be even better if we asked the community what they wanted. So, I bought a bunch of peel and stick chalkboard panels and some chalk and this past weekend I gathered a few friends and volunteers and we set it up. I kind of prefaced the whole experiment with a quote from Jane Jacobs: "Cities have the capability of providing something for everybody, only because, and only when, they are created by everybody."
The reaction from the public has been terrific. After a few hours of being up, most of the board space was full. People's suggestions ranged from a pocket coffee shop to a photo booth to more trees. More than a few people suggested a space for buskers to play music or a spot for a community garden. "Public art?", someone suggested. "Definitely", "Agreed", and "Ya!", were the added responses connected by arrows. "So many great ideas," wrote someone else, "can we reclaim all of the parking spots (4) and do all of these?"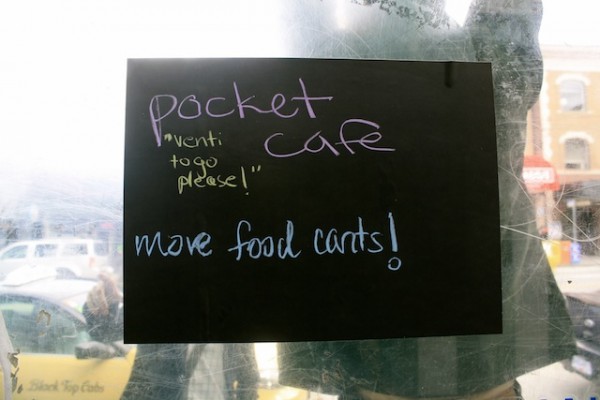 A day after, I captured the responses and erased some older suggestions to make room for new entries. As I came by to check on everything, this entire family added their thoughts to the wall. I overheard them talk about how cool the space was and how Space98 was exactly they wanted to see in their neighbourhood: a creative outlet for the community. People love something unexpected and awesome and that's what makes cities so darn fantastic.
I think it's extremely important that people be involved in their public spaces. We often just sit and talk about all the cool things that could or should be and all the great things that city x and city y has, but we never do anything about it. Yes, there are 'rules' and red tape but so what? I'm tired of hearing, the City should do this or that – let's do it ourselves.
Brandon Yan is a student in the Masters of Urban Studies program at Simon Fraser University and a coordinator at the Vancouver Public Space Network. Follow him on Twitter at @pre_planner or check out his blog, Masters Planning.
all photos used with permission by Landon Hoyt
You might also like: