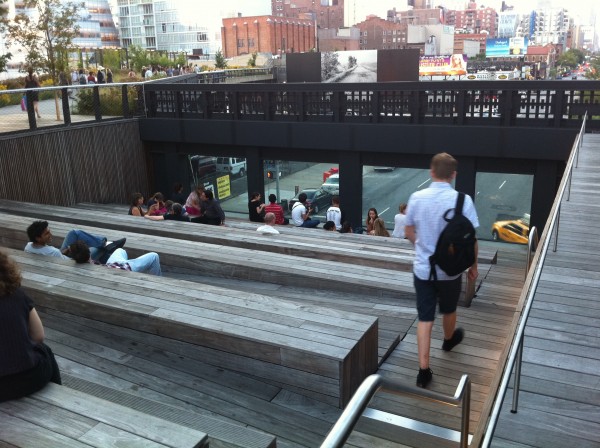 By Jake Tobin Garrett
If you're like most who have been reading about urban projects in the last year or so, you're probably sick to death of reading about New York City's amazingly successful High Line Park. You've probably heard all about how it took an unused elevated rail trestle and transformed it into a beautifully designed and landscaped linear park. You've probably also heard about the billions of dollars in private investment near the park that has been spurred in the area.
But did you know the High Line contained a theatre?
So, it's not exactly your typical theatre. You can't sit there, scarf popcorn and watch the latest George Clooney. It won't be showing the newest Pixar anytime soon, either. So, what can you watch at this theatre? The street.
One of the most innovative and interesting parts of the High Line is that it lifts you up off the city floor that you're used to walking and takes you into a higher space, giving you a perspective of the urban environment of New York that you rarely get to experience. To capitalize on that new perspective, a "street theatre" has been designed at a bend in the High Line's route, that allows people to sit on wooden benches and look out through several large windows framed by black metal onto the street below.
The day I went was a beautiful, blue-sky day and the street theatre was filled with people all watching the activity unfold below them. A few got up and had their picture taken against the windows, positioning their bodies so in the picture it seemed as though they were floating/falling over the street.
The street theatre, in effect, takes an experience that most New Yorkers know well—cars and people rushing across and through roads—and transforms it into a new experience. Framed as it is in the giant windows, what is normally something banal, becomes the main event. It's amazing how the simple act of framing an image focusses your attention in such a different way. Suddenly, people stop and sit and stare out at the street as if it's the most interesting thing they've ever seen.
It may not have the star appeal of a blockbuster Hollywood film, but the High Line's street theatre offers some good shows. Just remember to bring your own popcorn.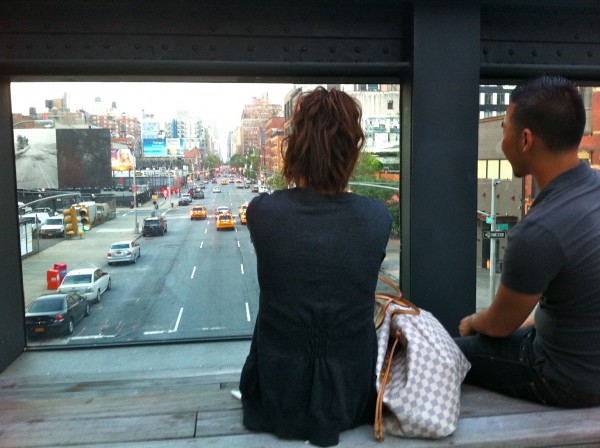 Jake Tobin Garrett is the OpenCity blog editor. Originally from Vancouver, he is currently completing a Masters in Urban Planning from the University of Toronto, and is also a contributing writer for Spacing Magazine and Torontoist. He can often be found riding his bike or reading in a park. Follow Jake on Twitter @jaketobin
all pictures by the author
You might also like: