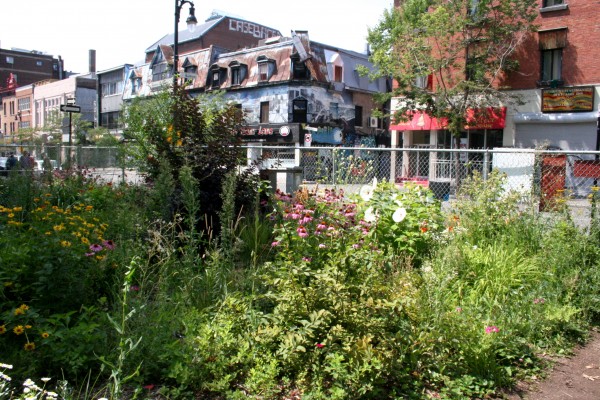 Even during the summer months Montreal's urban core can feel a little cold and hard at times. Sentier Urbain has taken it upon itself to lighten things up and spread a little bit of green around the downtown. The organization has not simply planted a few trees or set up shop in one location. Instead, it has developed a series of gardens throughout the city, each with a different theme.
To date, Sentier Urbain has created six gardens featuring:
• compost and birds
• medicinal plants
• a workspace where they facilitate training, composting, etc.
• First Nations Culture
• indigenous plants
• butterfly meadow
While strolling around the city last summer, I happened to come across the 'butterfly meadow' on rue Sainte-Catherine Est. The meadow, lush and colourful, lies in distinct contrast to its urban surroundings. In this particular location, Sentier Urbain was allowed to set up a temporary garden in what was an empty lot full of rubble. By adding thick layers of soil and woodchips, the volunteers were able to take the barren wasteland and transform it into a beautiful oasis.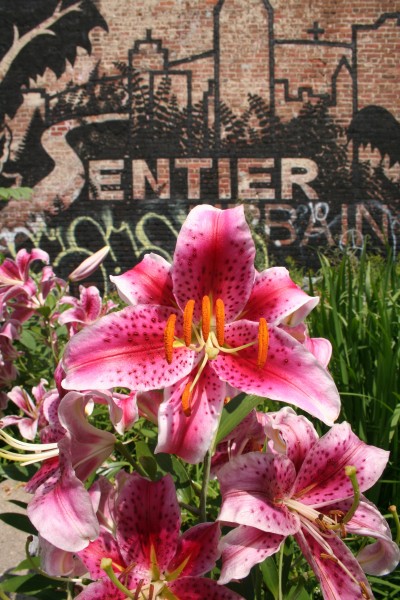 The gardens have helped educate thousands of people, young and old, on the importance of creating a balance with nature—not to mention the aesthetic and health benefits of these spaces, as well as the hands-on training.
After years of being cultivated, the space that has housed the 'butterfly meadow' is now slated for construction. The organization will be moving most of the plants to other spaces in the city, and fortunately, has at least another five gardens on the go.
Once the snow clears, should you find yourself in Montreal, you will know exactly where to go to see the city in full bloom.
Jordy Gold is the OpenCity Projects Senior Editor and is a sustainability consultant. He has worked and studied in Geneva, Lund, Chiang Mai and Prague. Jordy learned from the Swedes how to cycle in all conditions and can be seen on his bike 365 days a year throughout the core of Toronto. Follow Jordy on Twitter: @JordyGold
photos by Kristin Neudorf

You might also like: