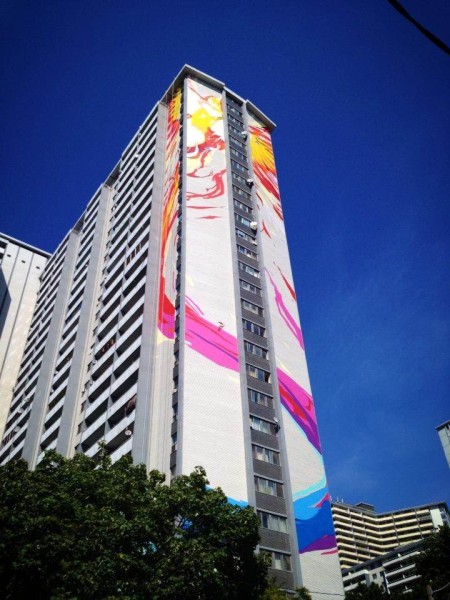 When you ask Torontonians about St. James Town, you're likely to hear some disparaging remarks. Constructed in the 1960s, the 19 towers that house many of the city's recently arrived and economically vulnerable residents make up Canada's densest neighbourhood at 25,000 people, and arguably its most diverse. All this vibrant complexity and dynamism, however, happens to be nestled among the drabbest and dullest architecture in the city. It's hardly the ideal place to raise a family, some might claim, citing safety concerns, crowding, unreliable infrastructure, or pure ugliness as reasons to seek a home elsewhere. But many are proud of having grown up here and are tired of hearing the grass is greener on the other side. And now they're out to show their pride.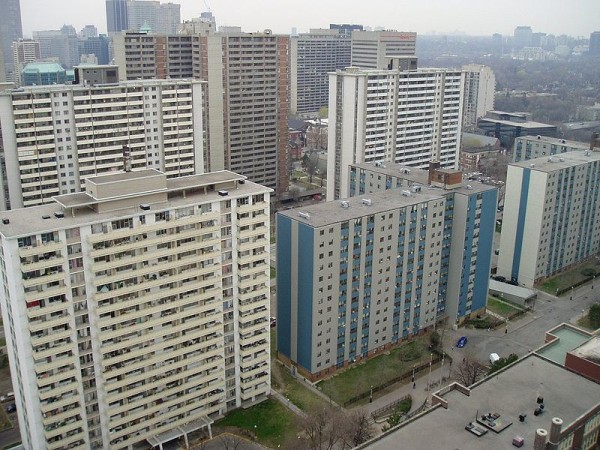 "We want St. James Town to be fun, colourful, playful, exciting, inviting and for youth to be taken seriously. We want it to be a destination, a place where people love art, appreciate art and to love where they are." These are just a few of the dreams that youth involved in the Emerging ARTivist Program—led by Sustainable Thinking and Expression on Public Space (STEPS)—said they wanted to realize as a result of their latest undertaking. Over the summer, they have been organizing and acting to create the world's tallest mural.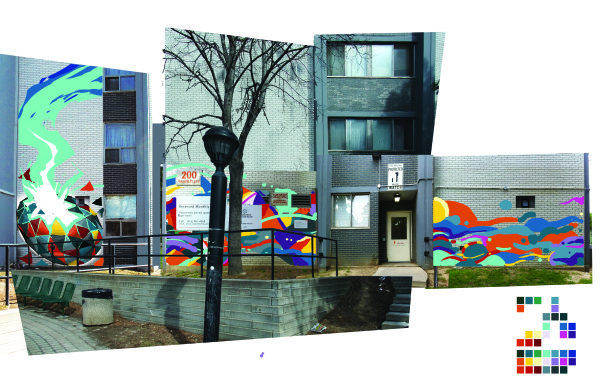 Through an activity-based design process at the St. James Town Community Centre, along with lobby consultations with residents, the design that emerged was one of a phoenix rising from the ashes, complimented by a collage of symbols (a Turkish evil-eye, a First Nations medicine wheel, a panda bear) near the building's entrance that tell the story of a diverse community eager to share its stories. These are apt images, considering the building and its residents are still recovering from a devastating fire two years ago. The mural communicates hope, celebration and beauty, feelings that admittedly aren't often associated with social housing.
You can't please everyone, however, but that's to be expected. "There's always some form of resistance [to public art,]" says Mojan Jianfar, one of the coordinators of the Emerging ARTivist program. "Is what you're doing worthwhile if no one is questioning it? It lets people have a conversation about the community and the issues facing it." Part of the conversation is clearly the lack of purposeful public spaces in the community, leading the group to look vertically, rather than horizontally, for an appropriate space for the project.
Conquering the height of the project is no problem for the Toronto Muralists, who are working with STEPS and the Emerging ARTivists to get the mural painted 29 storeys skywards. It's just the latest in a number of public art showpieces that the group has created in Toronto. Bringing attention to Toronto's lack of social housing capacity and quality is also one of the aims of the project. And with such a grand and unique vision, visitors are sure to flock to the neighbourhood, raising its profile and hopefully its prospects.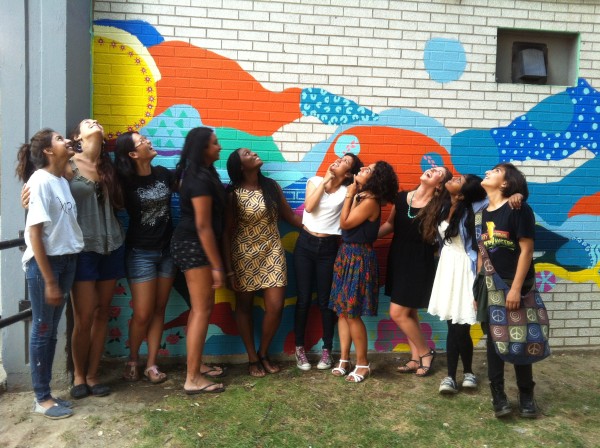 When I floated the idea of painting all the St. James Town towers to the group gathered for a community paint session one Saturday, it was greeted by knowing grins. They, too, it seems, have been struck by the endless possibility that the phoenix mural inspires. I, for one, would love to see the entire neighbourhood get a facelift, transforming an unfairly stigmatized area into a destination for public art and community collaboration. Even if it's just a dream at this stage, the mural at 200 Wellesley St. East began as just that, a vision by the local youth of a brighter community, energized by artivism and a love of a unique place that is called home by many. If you're in Toronto, join them on September 28th from 1-4 PM for the official unveiling!
[Author's Notes: The STEPS project at 200 Wellesley St. East is funded by StART Toronto, the Ontario Arts Council, the Ontario Trillium Foundation, ING Direct and in-kind support from local businesses. Photos 1 and 3 courtesy of STEPS, 2 by Wikipedia User SimonP, and all others by the author.]
Danny Brown is a graduate student studying urban planning at the University of Toronto and an editorial intern at OpenCity Projects. He is passionate about technology and the potential of unused and neglected public spaces among other things. Follow him on Twitter @dannybr0wn.