This past summer, New York City's Department of Transportation (DOT) rolled out the first stage of its WalkNYC campaign, a newly designed wayfinding system that highlights walking as an integral mode of public transit.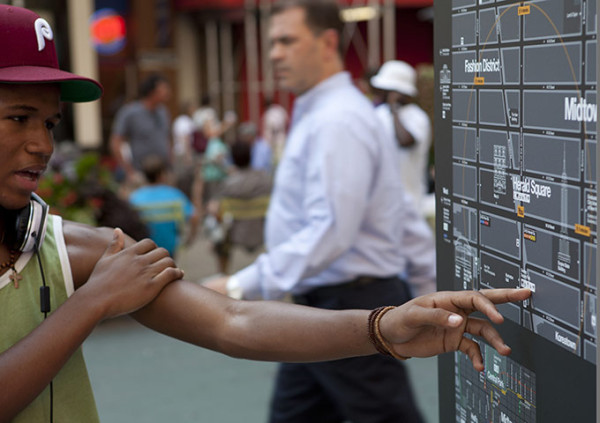 The program—which will eventually cover much of midtown and downtown Manhattan, as well as print and digital components—is currently available to the public in the form of 8.5′ tall map displays in four neighborhoods: Chinatown, Long Island City, Herald Square/Garment District and Prospect Park/Crown Heights, along with maps at over 300 bike share stations across the city.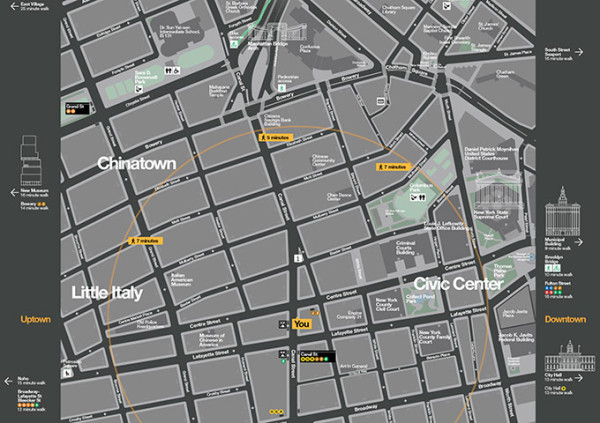 Although New York City's eight million residents and its visitors aren't exactly strangers to walking around town, the WalkNYC initiative represents a further step in the DOT's ongoing effort to make the city a more pedestrian-friendly place by filling a navigation gap for walkers. The DOT's own webpage admits that pedestrian-oriented information isn't always available. Even long-time residents can feel disoriented after exiting the subway. Neighborhood maps are mounted seemingly arbitrarily at some stations but not others (they're also for sale.) The city's famous street grid turns into a puzzle south of 14th Street and building numbering conventions vary from street to street and borough to borough. Considering how many New Yorkers rely solely on smartphone apps to orient them, pedestrians without smartphones are especially underserved.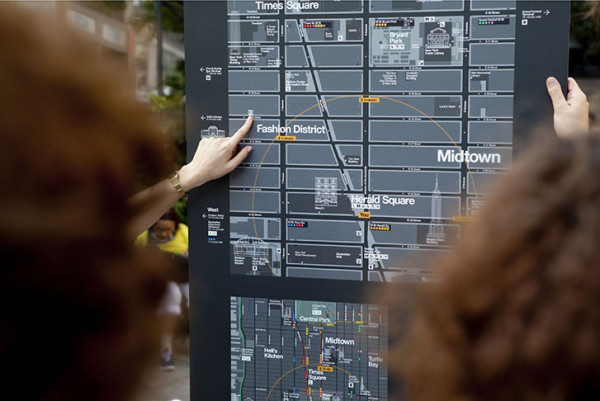 Apps may be undemocratic, but they are influential. The design of the system (created by PentaCityGroup, a consortium of firms that specialize in design, wayfinding, industrial design, engineering, urban planning and cartography) reflects the way GPS and other portable mapping technologies have changed the way we interact with location-based information. For example, the map orientation relies on the 'heads-up' approach; in which the top of the map doesn't always correspond to true north but rather to the direction you're facing. This approach is useful in places like Manhattan, which tilts about 29 degrees eastward geographically, yet is usually represented as perfectly vertical, even on the city's own subway map. The wayfinding signage takes the basic question "which way is north?" and replaces it with the more personalized "which way should I go?"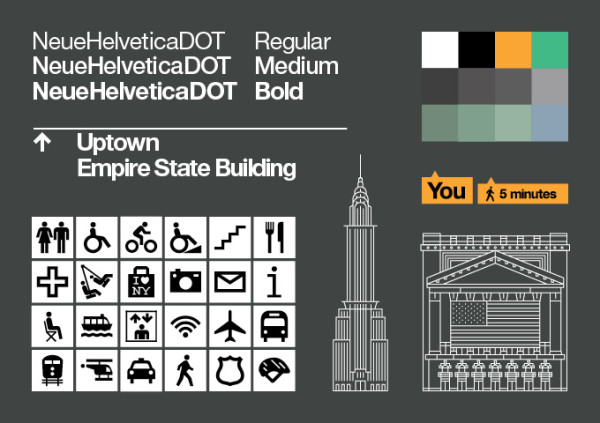 Graphically, the wayfinding system may feel familiar for anyone accustomed to the city's subway signage, which was developed by Massimo Vignelli and Robert Noorda for Unimark in the 1960s. According to Pentagram's Michael Beirut, whose team worked on the design of the project, this was all intentional. WalkNYC's custom-designed version of the Helvetica typeface echoes the subway signage enough to reinforce the connection between the two while preserving its own character (for the curious, the custom font rounds all of Helvetica's square dots.) Pentagram also designed custom line art versions of notable NYC landmarks that appear throughout the map system, as well as icons that riff on the American Institute of Graphic Arts passenger/pedestrian symbols designed in the 1970s for the U.S. Department of Transportation by Roger Cook and Don Shanosky.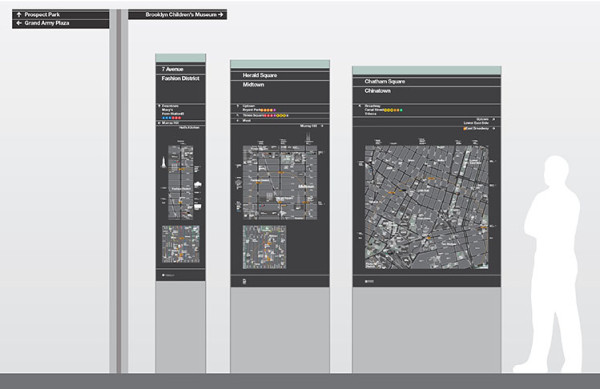 The mix of familiarity and novelty gives the campaign a déjà vu quality, as though you're meeting someone new who you feel you've known all your life. For New Yorkers and tourists alike, WalkNYC is a new friend worth keeping in touch with.
Images 1, 4 and 6 by Pentagram. Images 2, 3 and 5 by PentaCityGroup.
Minna Ninova is a writer, graphic designer and urban thinker who lives in Brooklyn, New York (40° 39′ 0″ N / 73° 56′ 58″ W). She received a Masters degree in Urban Planning from Columbia University where she was also an adjunct assistant professor and researcher at the Spatial Information Design Lab. She was born in Sofia, Bulgaria (42° 41′ 0″ N / 23° 19′ 0″ E.)